Judith Wilcox
I encourage all people to reach their potential with communication strategies that are the best fit for the individual.
Judith graduated from the University of Queensland in 1989. She initially worked for Disability Services Queensland, working with both adults and children. Her role in this position developed skills in using signs, symbols and other non-speech methods to facilitate communication for people who were non-verbal. Judith has also been involved in delivering training to staff, carers, family and friends of people with complex communication needs.
Since 2006 Judith has been an independent Speech Pathologist in Toowoomba. She has a wealth of knowledge regarding children's speech and language development and continues to keep up to date by regularly attending workshops and seminars.
Judith is a Certified Practising Member of Speech Pathology Australia and is an NDIS provider for Therapeutic Supports.
At Speech Pathology Toowoomba Judith offers:
Assistance for children with speech and language difficulties.
Communication support for children and adults who have disabilities
Augmentative and Alternative Communication strategies for people with no or minimal speech, including use of signs, symbols and social stories
Communicating with signs workshops – these are offered as requested, usually in conjunction with other local therapists.
PROMPT technique (Prompts for Restructuring Oral Muscular Phonetic Targets)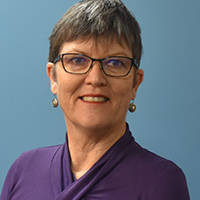 Ritamay Roberts
Speech Pathologist
Qualification: BSpThy., M Ed., MSPA  CPSP Experience: More than 30 Years
Judith Wilcox
Speech Pathologist
Qualification: BSpThy., MSPA  CPSP ____ Experience: More than 30 Years
Kate Ellis
Speech Pathologist
Qualification: BSpPath., MSPA  CPSP  ___ Experience: More than 20 Years